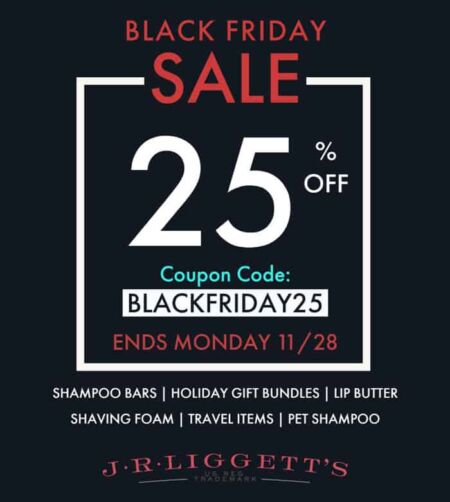 4 Days of Big Savings!
25% OFF Your ORder through Monday.
It's our biggest discount of the year, Friday through Monday 11/28 at midnight.  Save 25% on your order when you use the coupon code "BLACKFRIDAY25" in your cart.
FREE U.S. Shipping on orders over $50.
*Discount does not apply to gift cards, factory seconds, or wholesale orders.
SHAMPOO BARS TO GIVE YOU
HEALTHY, BEAUTIFUL, CLEAN HAIR –
NATURALLY & ECO-Friendly
100% Detergent Free | No Synthetic Fragrances | SLS Free |  Does not strip hair of natural protective oils | GMO Free | Natural Ingredients

J.R.LIGGETT'S new Conditioner Bar has been one of our most requested new product additions. After considerable research and formulating we believe that we have come up with an excellent high quality conditioning bar that meets our most exacting standards, and it also partners beautifully with our excellent all natural shampoo bars.
EARTH FRIENDLY

PEOPLE FRIENDLY
BENEFITS OF J.R. LIGGETT'S
SHAMPOO BARS
GMO Free – It's Gluten free – and made from 100% natural edible vegetable oils.
No Animal Products, Preservatives, or Artificial Colorants
100% Detergent Free
Will Not Strip Hair of Natural Protective Oils
No Sodium Laurel Sulfate (SLS), DEA, or any other Petroleum based detergents
Shampoo Bars Reduce Plastic Waste
100% Ecologically Correct.  Earth Friendly and People Friendly.
Simple to Use, produces a luxuriously thick lather, and rinses clean
Works well for gray and silver hair, permed, colored, or naturally curly hair.
Formulas for all hair types
Works well for people with allergies and sensitivities
Requires No Conditioners
Made by an Ethical and Ecologically Minded Company for over 40 years.
J.R.LIGGETT'S is a ZERO WASTE Company
All scrap resulting from the manufacturing of our products is recycled into products of the same type, thus reusing all useable materials.

Questions regarding Palm Kernal Oil – Sunflower Oil – or – Safflower Oil